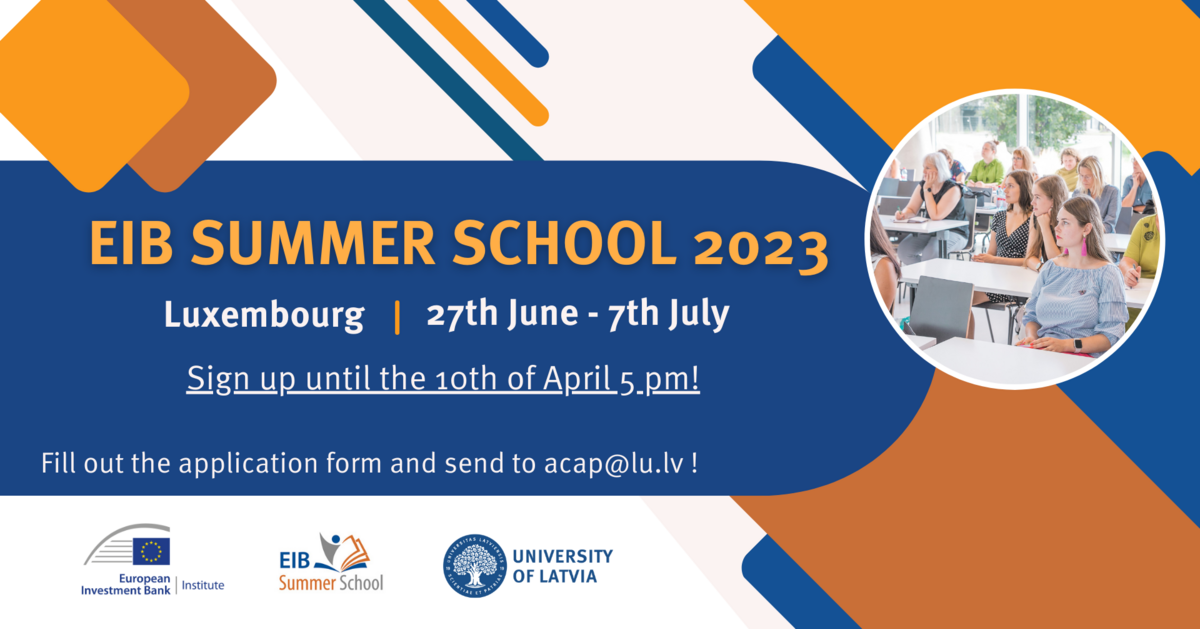 EIB has been a long-term partner of UL, which has believed in the vision of establishing the Academic Centre in Tornakalns, has participated in the financing of the House of Science and House of Letters. For the fifth year, the EIB is organizing a summer school during which students are introduced to the EIB's operating principles, the banking and financial system in Europe, the EIB's values and orientation to the European Green Deal.
Also this year, three UL master's students will have the opportunity to participate in an 11-day long summer school, which will take place this year on-site, in Luxembourg, from June 27 to July 7.
If you are a student of any UL master's program and you are interested in the operation of the banking system in Europe - apply!
To learn more, get acquainted with the EIB summer school's flyer, program and regulation, where you will also find the application form! Applications signed with a secure electronic signature should be sent to acap@lu.lv by April 10 of this year at 17.00! In case of any questions, please contact Roberts Rostoks, Deputy Director of UL ACDP (roberts.rostoks@lu.lv).
---
Frequently asked questions:
What is the EIB Summer School?
It is a week-long educational program organized by the European Investment Bank, in which students from all over Europe participate. Students have the opportunity to learn how the EIB and European institutions work, to establish contacts.
Where and when will the EIB summer school take place?
The EIB Summer School will take place in Luxembourg from 27 June 2023 to 7 July 2023.
How many LU students will participate in it?
3 students of the master's program of the University of Latvia will be selected according to the contest.
Who can participate in the contest?
A student of any LU master's study program (including students graduating from the master's study program in 2023).
What must be done to participate in the contest?
You must fill out the form in the regulations (Appendix 1 of the rules), sign it electronically and send it together with your CV to acap@lu.lv by April 10 this year at 5 p.m.!
What is the application deadline?
April 10, 2023 at 5 p.m.
What are the costs?
The EIB covers all costs related to the stay (accommodation, food). The winners of the UL contest will be compensated for travel costs up to 400 EUR.